Blog
Campus Spotlight: Historically Black Colleges and Universities (HBCUs)
April 12, 2023
Black History Month is an opportunity to celebrate the work of our partners across HBCU and MSI campuses, Black-owned businesses, and the many outstanding mission-driven organizations that serve Black students everywhere.
As Jackson State University Store Manager Dyonne Conner says, "we embrace Black History 365 days a year," a reminder that the traditions, leaders, achievements, and values celebrated every February at campuses across the country are at the heart of what it means to be an HBCU.
We're honored to support dozens of HBCUs and to spotlight the ways HBCU campuses within the Follett family are celebrating, reflecting, and meeting students where they are—this Black History Month, and all year round.
Follett is Pleased to Partner with The JED Foundation
In December 2022, Follett announced a partnership with The Jed Foundation (JED), a nonprofit that protects emotional health and prevents suicide for our nation's teens and young adults, to collect donations at campus stores. From our partners at JED: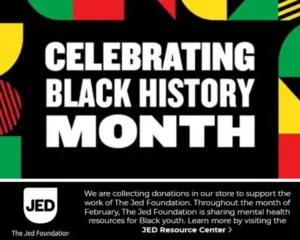 For too many students, mental health is the leading reason they struggle at school or don't graduate. In fact, three in five (60%) college students reported being diagnosed with a mental health condition by a professional, the most common afflictions being anxiety and depression.
Colleges play a critical role in addressing the emotional health of their students and creating systems, policies, and a school culture that ensures their students get the help and support they need.
JED empowers campus communities to strengthen their overall efforts to address student mental health, substance misuse, and suicide prevention.
In recognition of the critical role mental health plays in student success in the Black community, and among college students as a whole, we have made a $25,000 donation to The Jed Foundation (JED). JED equips campus communities to strengthen their efforts to address student mental health, substance misuse, and suicide prevention.
Join us in Celebrating and Supporting Black-Owned Brands

We're committed to offering products in our stores that represent the campus population. As part of this commitment, we're honored to offer a variety of merchandise from Black-owned brands.
PRIDEFUL PATCHEZ mission is to bring representation and empowerment to communities of color by providing them with prideful, affirming statement patches to increase their pride and self-esteem.   
PRO STANDARD is the first minority owned licensee of all three major sports leagues in North America, PRO strives to empower our partners who share our values.
SPIKE'S JOINT: Bold, outspoken, fearless, and innovative have always been the ethos of Spike's Joint and 40 Acres and a Mule Filmworks and today's streetwear brands collection, the brainchild of Spike Lee, continues to reinforce those beliefs.
PUBLIC FIGURE: "PBLCFGR™ is created by Jackson native and former Jackson State University student, Rick Deuce. His main objective behind the brand is to instill confidence in those doubting their place in today's society. 
SACRED HEART COLLECTIONS: HBCUs are the place where you can be uniquely you yet fit right in. Sacred Heart Collections was created to be an ode to that powerful experience.
SAVAGE PROMOTIONS is a Black-owned family business and a leading wholesale supplier of Divine Nine fraternity & sorority merchandise since 1985, providing excellent customer service, quality products and same-day shipping.
TONES OF MELANIN: Founded by Ashley Jones, Tones of Melanin is an HBCU clothing company that speaks to the HBCU culture's pulse through philanthropic endeavors, one-of-a-kind designs, and long-lasting quality.
Preparing Students for Success: Access Programs at HBCUs
Spotlight on Edward Waters University
Edward Waters University and Follett Higher Education developed an innovative partnership aimed at reducing overall costs of course materials, while offering students access to the technology necessary to support their success.
The collaboration provides students access to significantly discounted course materials via an e-textbook platform, making it easier for students to be prepared for class.
"We had the ability to go to the bookstore and get e-books for our classes before, but a lot of students couldn't really access the materials because they didn't have and/or couldn't afford to buy computers or tablets," said EWC Student Government Association President, Mr. Joshua Young.
"Affordability is the biggest thing we're focused on," said Dr. A. Zachary Faison, Jr., President and CEO of Edward Waters University. "Follett's Access program has been instrumental for recruitment and retention outcomes — Edward Waters is seeing record highs during a lot of enrollment downturn in the industry."
"The mission of HBCUs has always been accessibility," said Megan Crowley-Watson, Director of the Writing Center. "That mission of lifting people up, offering them a chance, helping them become who they want to be is what being an HBCU is all about."
Watch a short video to learn more about the Edward Waters University story here: